In The News
Watch our latest commercial and follow Brady's Drug Store in the news.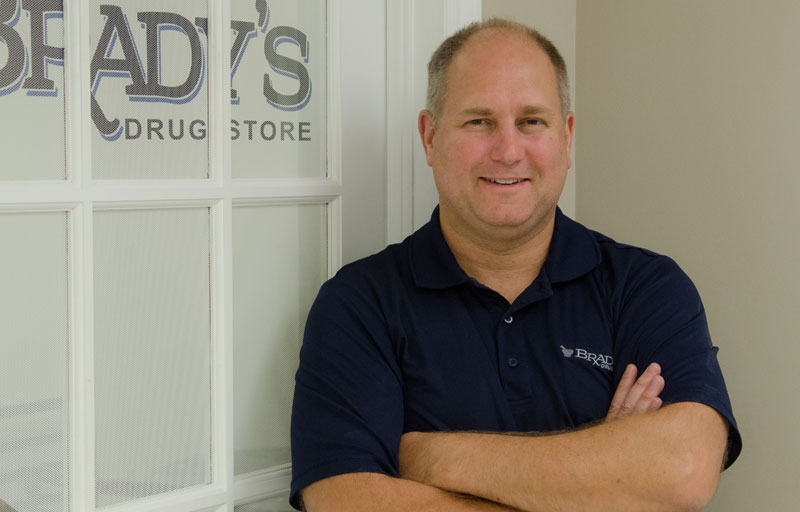 September 27, 2022 By: Brady's Drug Store
MEDIA RELEASE: Brady's Drug Store commissions tree sculpture to highlight local species at risk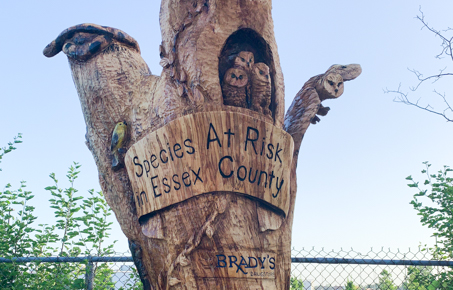 Brady's Drug Store is paying tribute to local species of concern by turning a tree stump into an artful reminder that we can all contribute to protecting local creatures and plants in Essex County.
"We wanted to create a reminder of the impacts of climate change and development on our local habitats and their inhabitants," says Pharmacist-Owner Tim Brady at Brady's Drug Store. "In the spirit of re-purposing existing materials, we took the remains of a tree and brought it back to life through art."
The carvings represent species at risk which are native to Essex County. Brady's consulted experts from the Essex Region Conservation Authority and the Ojibway Nature Centre to confirm the list of threatened species to feature. The ten-foot tree stump has been carved with the likeness of a:
Barn owl and three babies
Barn swallow
Fox snake
Golden seal
Green round leaved briar
Grey fox
King rail
Massassauga rattler
Prothonotary warbler
Soft shell turtle
5 lined skink
Wheatley wood carvers, Heather and Dan Mallaby of Erie Treasures Chainsaw Art designed and carved the piece, which still has a little room on the back for a future project.
"We think it's a pretty cool looking sculpture, and we hope people will come and check it out and learn a little bit about local species at risk," says Karen Brady, Director of Marketing and Operations at Brady's Drug Store.
"Pharmaceuticals generate a lot of waste and we're continuing to look at ways that we can reduce our planetary footprint. We currently use recyclable bags, and recyclable vials that use less plastic and packaging, and we recycle our used materials in the pharmacy," says Brady.
The wood carving can be found in the back (south) lot of the Essex Medical Centre, which is home to Brady's Drug Store, located at 186 Talbot Street South in Essex, ON.
Media Contact:
Karen Brady, Director of Marketing & Operations, Brady's Drug Store
Mobile: 519-564-8554  |   karen@bradysdrugstore.com
*Photos by Karen Brady, Brady's Drug Store. Artists: Erie Treasures Chainsaw Art
____
Essex: 186 Talbot St S., Essex, ON.  Phone: 519-961-9610
Open Monday 9 am to 8 pm, Tuesday to Friday 9 am to 6 pm,
Saturday and Sunday 9 am to 1 pm.
The Essex store is located in the Essex Medical Centre (EMC), 20 minutes from almost anywhere in Essex County. EMC hosts a walk-in-clinic, the pharmacy, x-ray, blood lab, ultrasound, physiotherapy, dentistry and audiology services, in addition to two family doctors and a nurse practitioner team.
Belle River:  190 Chisholm St., Belle River, ON.  Phone: 519-715-9881
Open Monday to Friday, 9 am to 6 pm, Saturday 9 am to 3 pm
The Belle River pharmacy is on Chisholm Street, just off of Notre Dame Street, and is located in the Belle River Family Medical building behind the National Bank. The Belle River store is currently offering infant COVID-19 vaccinations, in addition to vaccines for children and adults.
Tilbury: 15 Mill Street East, Tilbury, ON. Phone: 519-682-0010
Open Monday to Friday 9 am to 5 pm, Saturday 9 am to 1 pm
The Tilbury store is located on the town's main street inside the Tilbury Walk-In Clinic. There is also a physiotherapist on site.
If you have questions about this article contact us at rx@bradysdrugstore.com
---